When it comes to designing or renovating your kitchen or bathroom, you want to choose a countertop material that will last the test of time. Quartz countertops are an excellent choice for busy households, particularly those with young children and pets. Quartz countertops have become increasingly popular among American homeowners, thanks to their unmatched combination of durability, low maintenance, and aesthetic appeal.
What is Quartz?
Quartz countertops are not made from all-natural quartz found from the Earth's crust, they are actually engineered through a process that combines natural quartz with resin binders and other additives for durability and color. The engineered nature of quartz countertops allows for greater control over the color, pattern, and consistency of the material.
Quartz Counters Are Great for Cooking
Busy households require countertops that can withstand the daily wear and tear of life. Kitchen counters take all sorts of spills and messes. Quartz countertops are engineered to be exceptionally durable and resistant to scratches, making them an ideal choice for families. The combination of natural quartz stone and resin binders creates a surface that is highly resistant to scratches, stains, and impacts. Quartz is also heat resistant, meaning you can place hot pots and pans directly on counter surfaces without worry.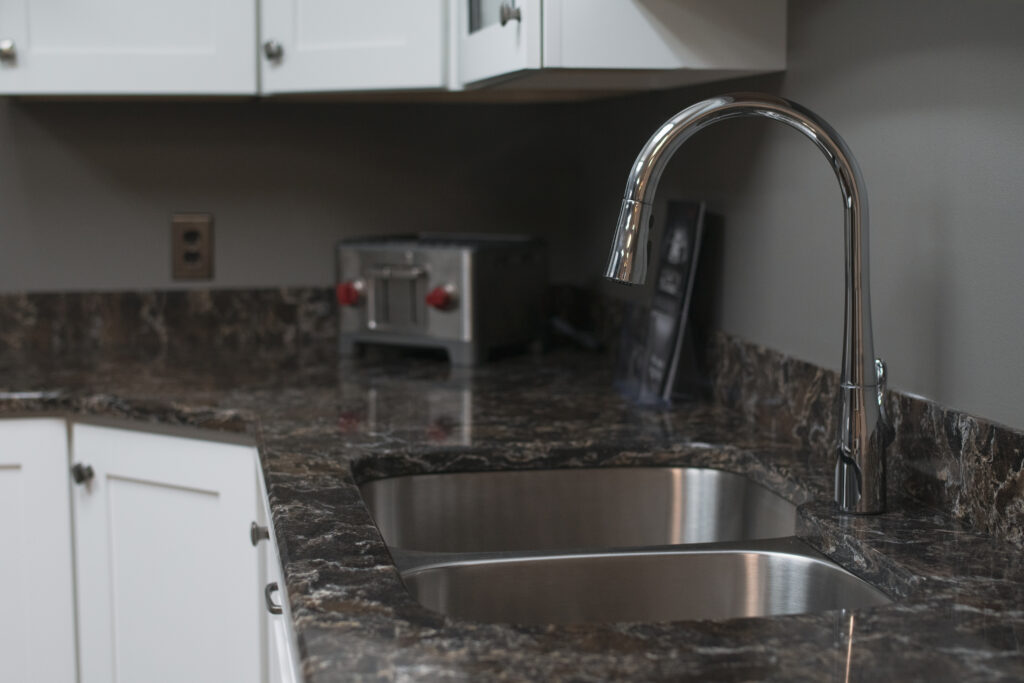 Quartz is Easy to Maintain
Keeping a clean and tidy home is a top priority for any homeowner, but it's especially important for busy families. Quartz countertops are incredibly low maintenance, requiring minimal effort to keep them looking their best. They don't absorb liquids or stains which typically grow bacteria. A simple wipe-down with mild detergent and water is usually sufficient to remove any spills or stains. This feature makes quartz countertops an excellent choice for kitchens where food preparation takes place and bathrooms where cleanliness is of utmost importance.
Quartz Comes in Many Beautiful Styles
Quartz countertops offer a wide range of colors, patterns, and finishes, allowing you to find the perfect match for your home's design aesthetic. Whether you prefer a classic solid color, the elegant look of marble, or a speckled pattern, there is a quartz countertop option that will enhance the overall appeal of your kitchen or bathroom. The uniformity and consistency of quartz provide a clean and seamless look, blending effortlessly with any style or décor.
Explore Your Quartz Options in LJ's Showroom
Choosing the right quartz countertop finish for your home remodeling project depends on your personal preferences and the desired aesthetic for your space. But if you're having trouble making a decision, come see and feel them for yourself at LJ's showroom in Mt. Pleasant! You can also see all sorts of color options to envision in your home. Stop in today!