Every home is unique, and rooms come in all shapes and forms besides perfect rectangles. Walls can be too long or too short, meet at awkward angles or form unusable nooks and crannies in your home layout. Awkward support columns may be placed about your home layout. One of the common reasons people chose to go with the professional designers at LJ's is because they're facing challenging spaces to redesign. Rooms that have awkward designs where standard furniture and cabinets look ill-fitting. Luckily for them and for you, LJ's can help you find the flow in any space, even the irregular-shaped ones! How do we do it? We follow some of these basic design principles that you can learn too!
Establish Distinct Areas Within a Space
This is especially true for large, open awkwardly-shaped spaces. Furniture can be used to create "zones" within a big open space. One area may be designated for family meals by a table with chairs. Another area may be for socialization with lounge chairs, sofa, and coffee table. Now you can focus on how each of these zones present themselves and match the others, rather than try and design one giant space. Area rugs are another amazing way to define and anchor spaces.
This home divides an L-shaped room into a living room, kitchen, and dining room.
Pull Furniture Away from the Walls
It's very tempting to line the perimeter of a room with all of your furniture and call it good. In an irregularly-shaped room, this could create big pockets of unused space, especially in the center of the room. Instead, use furniture to create barriers and zones in open spaces like the living room.
Custom Fit to Your Space
Irregular-shaped spaces only stand out when the furniture looks out of place. At LJ's, you can have nearly any style of cabinetry custom-sized to fit your space! Kitchen counters too! Uneven kitchens are no problem for our vendors. We even use digital measuring technology to ensure your custom cabinets are sized exactly right.
Our laser measurement technology allows us to create  incredibly accurate 3-D models of your space.
This custom counter was built around this uneven kitchen corner.
Create Your Own Symmetry
Even if the room isn't perfectly even, you can still use design elements to create a false sense of symmetry within a room! Even just repeating the same use of color of design elements throughout a space creates a sense of unity, which distracts away from the irregularities of the room.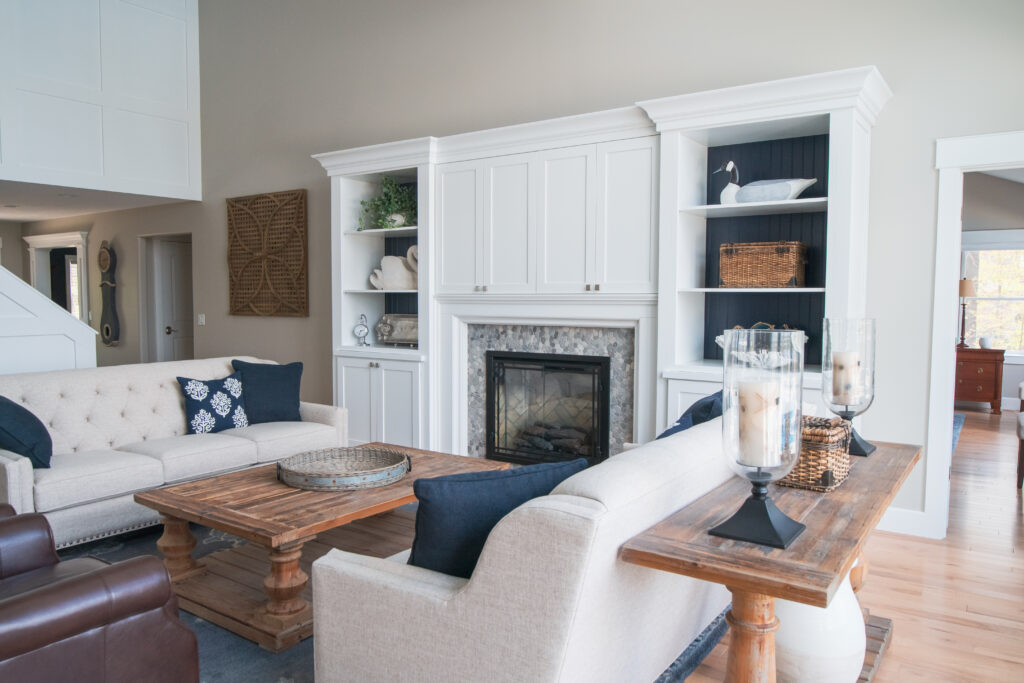 This living room is not symmetrical, but the homeowners chose a fireplace cabinet in the same color and style as the staircase across from it.
Let Us Help You With Your Irregular Room!
If you're looking to make the most of your awkwardly-shaped room, then LJ's Kitchens is the perfect resource for you! Our designers can show you innovative solutions for maximizing function in any type of room. We have access to vendors who provide custom-sized cabinets that can fit your space perfectly. We have decades of experience designing living rooms, kitchens, bathrooms, walk-in closets, home bars, and more!