If the kitchen is the heart of the home, then is the kitchen island the heart of the kitchen? Homeowners today have myriad options to tailor their kitchen islands to their specific needs, transforming it from merely functional to truly fantastic. Here's some of our favorite ways to  how customize a kitchen island:
Designed Just For Your Space
The very essence of your island begins with the choice of material. Quartz, granite, and butcher block are perennial favorites, each bringing a unique aesthetic. However, the adventurous homeowner might venture into soapstone, concrete, or recycled glass, each lending a unique touch to the kitchen's heart. Plus, gone are the days when countertops stopped at the edge. Waterfall edges, where the countertop material extends down to the floor, create a seamless transition, elevating the visual appeal.
Built-In Brilliance
Integrate modern appliances directly into your island. A microwave drawer is a space-saver, a wine refrigerator adds luxury, and an integrated dishwasher ensures seamless workflow. Not only do these additions save space, but they also make your island a hub of functionality.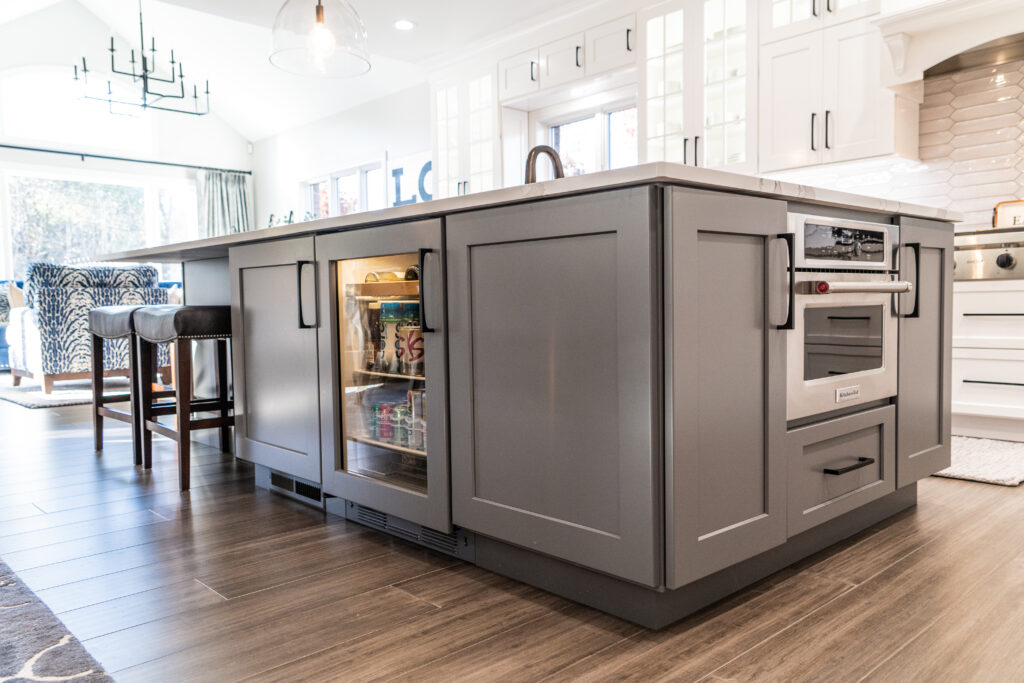 Storage Solutions
Maximizing space is the name of the game in modern kitchens. Pull-out trash and recycling bins, custom cabinetry for pots, pans, and utensils, and specialized spice racks turn the island into a storage haven.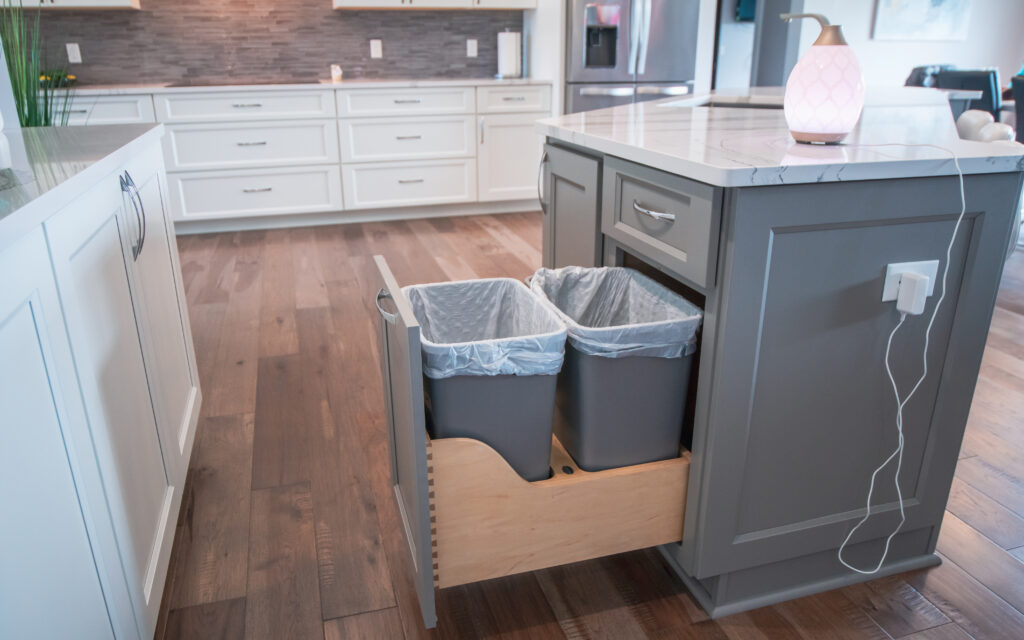 Sit and Savor
An island can be more than just a workspace. By integrating seating—be it barstools for a quick breakfast or cozy chairs for evening chats—you create a space that's as social as it is functional.
Light the Way
Lighting is a key player in setting the mood. Overhead pendant lights, under-cabinet LEDs, or even chic chandeliers can turn your island from simple to stunning.
Shelf Showcase
Modern designs often favor open shelves over traditional cabinets. Display your beautiful china, treasured cookbooks, or quirky kitchen gadgets with pride.
Power Up
Pop-up electrical and charging outlets are game-changers. Embedded within the countertop, they can be accessed with a simple push, ensuring your devices and appliances are always ready to roll without cluttering the surface.
Extend and Expand
Space constraints? No worries. Design a part of your countertop to slide or fold out, giving you extra prep or dining space whenever needed.
Go Green
Integrate mini planters into your island. Not only do they add a touch of nature, but having fresh herbs at your fingertips is also a chef's dream.
Color and Contrast
A two-toned kitchen island can be a visual delight. Contrasting colors or materials for the base and countertop can turn your island into the room's focal point.
Let LJ's Give You More Ideas!
The modern kitchen island is a canvas, waiting to be imbued with your personality and needs. Whether you're a culinary enthusiast needing extra prep space, a social butterfly desiring seating, or someone craving organization, LJ's designers can help custom design a kitchen island just for you. You can also visit our Showroom in Mt. Pleasant to see even more real-life examples of modern kitchen islands! Visit us soon and let's plan something amazing for your home or space.