The typical American household kitchen serves a lot of crucial family needs. It's where we store all of our many cooking supplies, ingredients, and most of our major appliances. So how can one space handle so much utility? With the proper layout and planning of course! We design new kitchens all the time, and we're constantly challenged to find new and innovative ways to fit more and more into the kitchen. Here are some of our favorite solutions for saving space in the kitchen so we can fit more in!
Hiding Kitchen Items in Pull-Out Drawers
Cabinets and drawers can be so much more than you'd typically imagine. Lots of extra storage space can be added when we use the power of pull-out units. Instead of taking up valuable counter space, everyday kitchen tools and accessories can also be hidden away in pull-out drawers. We've designed kitchen pull-out drawers to hide trash cans, cutting boards, spice racks, and general kitchen utensils. Imagine how much extra counter space you could have by hiding these items away.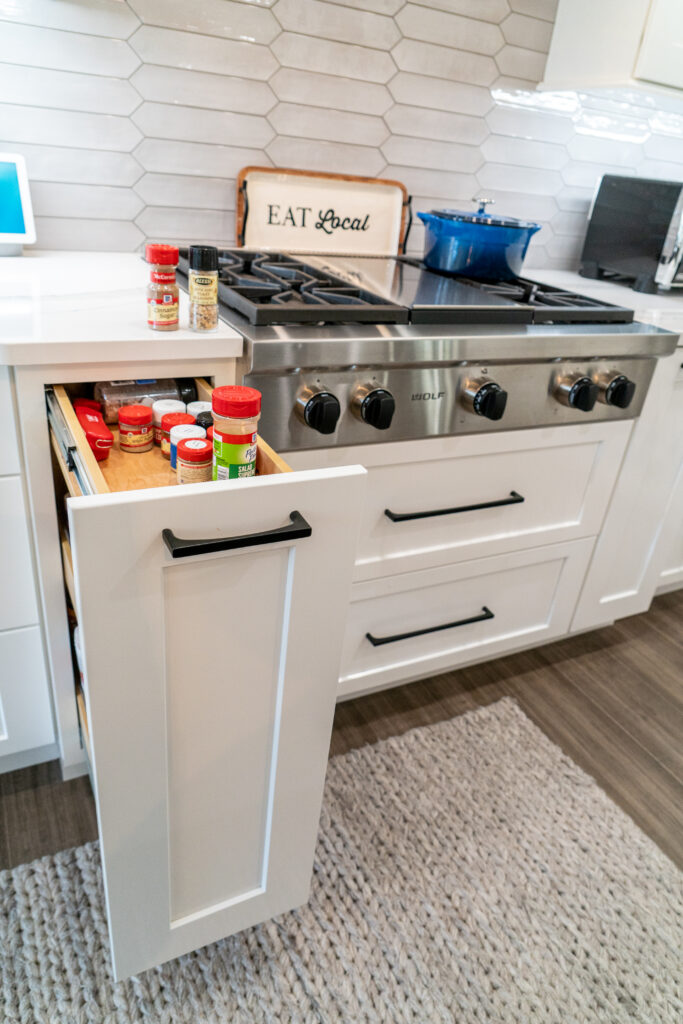 Examples of pull-out solutions
What's Behind Door #1?
When you give everyday kitchen utensils their own place, you create a much better sense of cleanliness and organization into the entire kitchen. For example, this kitchen could have opted to hang coffee mugs under their cabinets and put the coffee maker on a counter, but doesn't this coffee nook just look so much better?
Open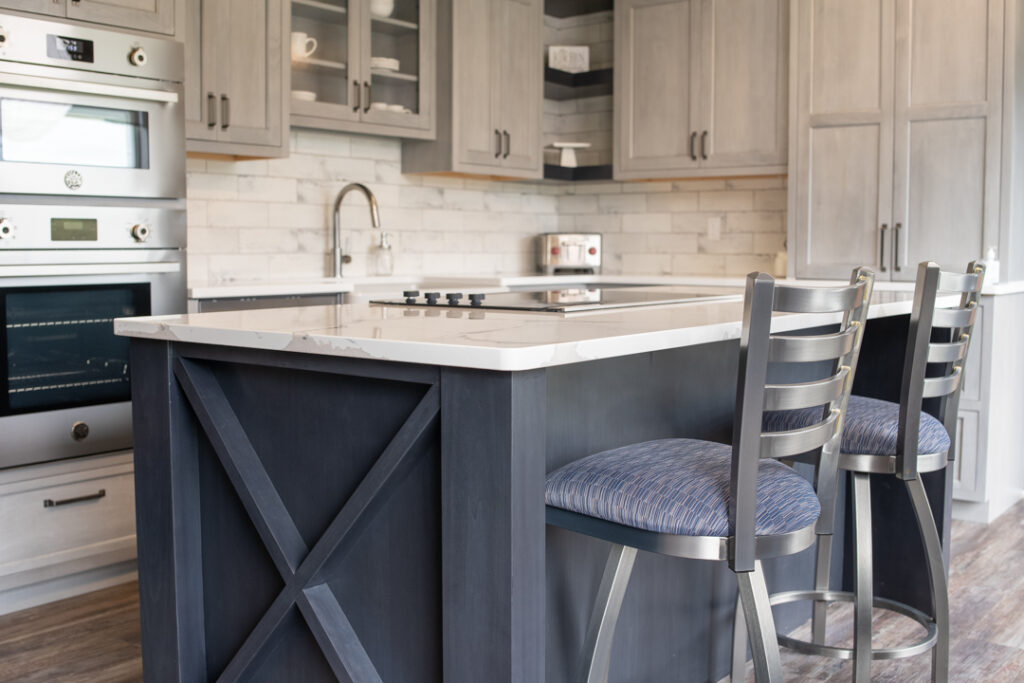 The same cabinet closed
Built-In Appliances
What takes up the most room in kitchens? Appliances and cabinets, especially when they're not coordinated. With a standalone oven or refrigerator, you need to plan the cabinets around those appliances. However, modern appliances are getting easier and easier to plan right into your cabinet layout! Ovens, cooktops, microwaves and refrigerators can all be built into custom cabinets to take the most advantage of space.
This stovetop is built right into this cabinet!
Making the Most of Corner Cabinets
Corner cabinets can often present a problem. It can be difficult to reach items buried deep back in there! One of our favorite solutions to this issue are pull-out units. Special kidney-shaped pull-out platforms can allow objects like pots and pans to be easily put away or taken out of deep corner pockets. This is a much more effective use of space and the drawers make it easier to access items!
Let LJ's Help You Plan to Maximize Your Space
Planning out your kitchen is no easy task, especially if you have no experience doing it. Luckily for you, you don't have to remodel alone! You can rely on the expertise of LJ's designers to help guide you into the best choices for your wants and needs. The most effective way to work with a professional designer is to be clear with how you currently use your kitchen and how you would like to. Our goals will be to create a space that fits with the way you live your life and also offers additional opportunities for storage, seating and entertaining. Visit our showroom in Mt. Pleasant and we can give you even more ideas to get started!