Kitchen cabinetry comes in various finishes including paint, stains, and even protective polyurethane varnishes. One of the most popular styles we see our customers choose is painted cabinets, but they aren't for everyone. Learn about the benefits and drawbacks of painted kitchen cabinets so you can make the best choice for your home.
The Timeless Appeal of Painted Cabinetry
Many of the kitchens we design at LJ's feature painted cabinets. They're very popular in contemporary kitchens designs, transitional designs, and even modern traditional kitchens. This is likely because painted cabinets feel fresh and in trend. Paint covers wood's natural grains and creates a uniform appearance. Both painted and stained cabinets have been around for decades, yet stained cabinets feel dated compared to a clean coat of paint.
Endless Options
Another clear advantage of paint is your freedom of color choice. While many kitchens go for paler colors like whites, grays, and light blues, your kitchen is yours to make your own! Some of our favorite kitchens we've helped design even include more than one color choice to create an accent piece. You truly have endless options!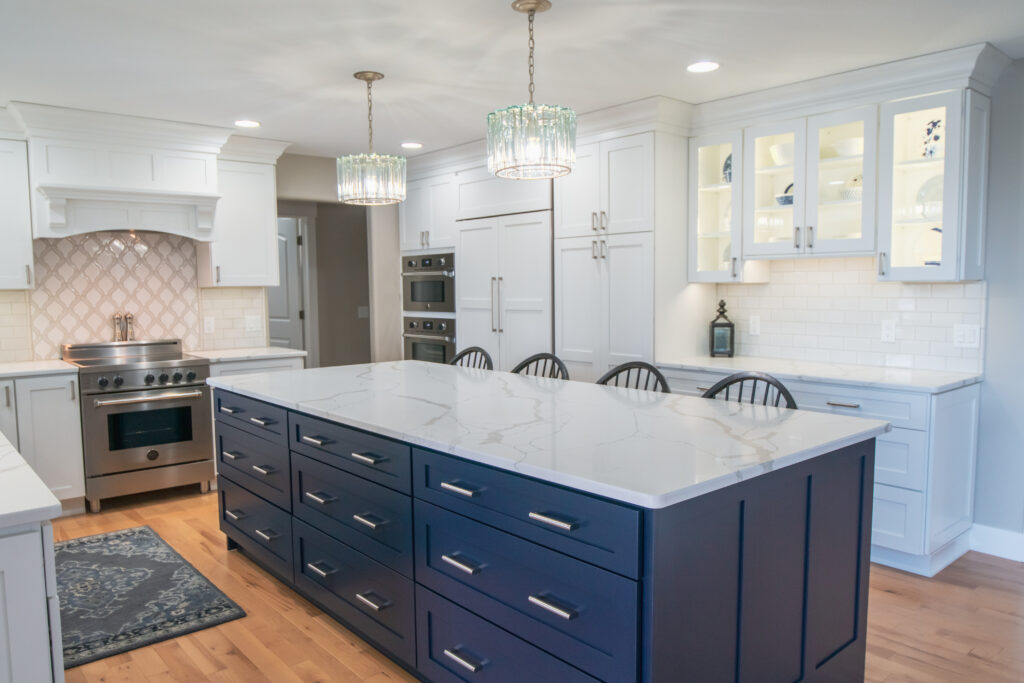 The Drawbacks of Painted Cabinetry
Painted cabinets aren't the best choice for everyone. When they are bumped or scratched, the layer of paint can be chipped away and reveal noticeable imperfections. Our kitchen cabinets go through a lot of abuse over time, especially in busy homes with small children and pets. Light colors can also reveal dirt and food stains more easily than stained wood, which may call for more frequent cleaning. These may not be dealbreakers for some people who can overlook some noticeable imperfections, but it is a consideration to take into account before choosing paint for your cabinets. Stains also tend to protect wood better than paint does. Painted cabinets can be prone to cracks after 10 years of use, while stained cabinets can hold up for multiple decades.
Not Sure? Let Your Other Choices Guide You
If you're starting to second-guess whether you want painted or stained cabinets, you can always let your other design choices guide you. Do you know which kitchen design style you gravitate toward? You can always find out with our Style Quiz!
Your style preferences can influence your cabinet and appliance choices. Stained cabinets look wonderful with stainless steel appliances, but many appliances also come in whites or gray that pair well with painted cabinets. Your best bet is to discuss your vision with one of our designers and they can guide you into a cohesive design plan.
Come Choose Your Style of Painted Cabinets at LJ's Kitchens
There are hundreds of color shades to choose from for your kitchen cabinets, and you can see real examples at LJ's showroom in Mt. Pleasant! You don't even have to look at paint chips, we have plenty of cabinet examples so you can see how each color looks under real lighting. See our hours and visit us in Mt. Pleasant! We're a great way to find inspiration and our designers can guide you through any questions you may have.