As soon as you enter any home, chances are you'll immediately see shoes organized by the front door. Exactly how organized greatly depends on each family. The front entrance is also known as the mudroom, since it's where most people remove their muddy shoes before entering the rest of the home. Whether you call it a mudroom or not, a cluttered front entrance is not ideal. The last thing you want is your guests tripping as soon as they enter! When people remodel their spaces with LJ's, we always encourage them to consider their mudroom storage options. With ample cabinets, you can have a place for your coats and shoes, and keep the rest of your home tidy! Here are some of our favorite additions for mudrooms.
Hooks for Hanging Coats
Especially in colder climates, hanging coats by the door is a must! Plus, wet coats need a place to dry off and not drip water through the home. Whether your front entrance immediately opens into an open space or opens into a hallway, we always recommend hanging hooks. These may be connected to larger cabinets or can be installed directly onto walls.
A Place for Shoes + A Bench
No judgment, but shoes don't belong in a messy pile by the door! Some of our favorite mudroom cabinetry features large door cabinets for coats, pull-out drawers for shoes, AND include a handy bench for using to put shoes on! Beyond drawers, other options include cubby-style shoe racks. Whatever style you want for your home, LJ's can help you find cabinetry and storage options that fit your home aesthetic.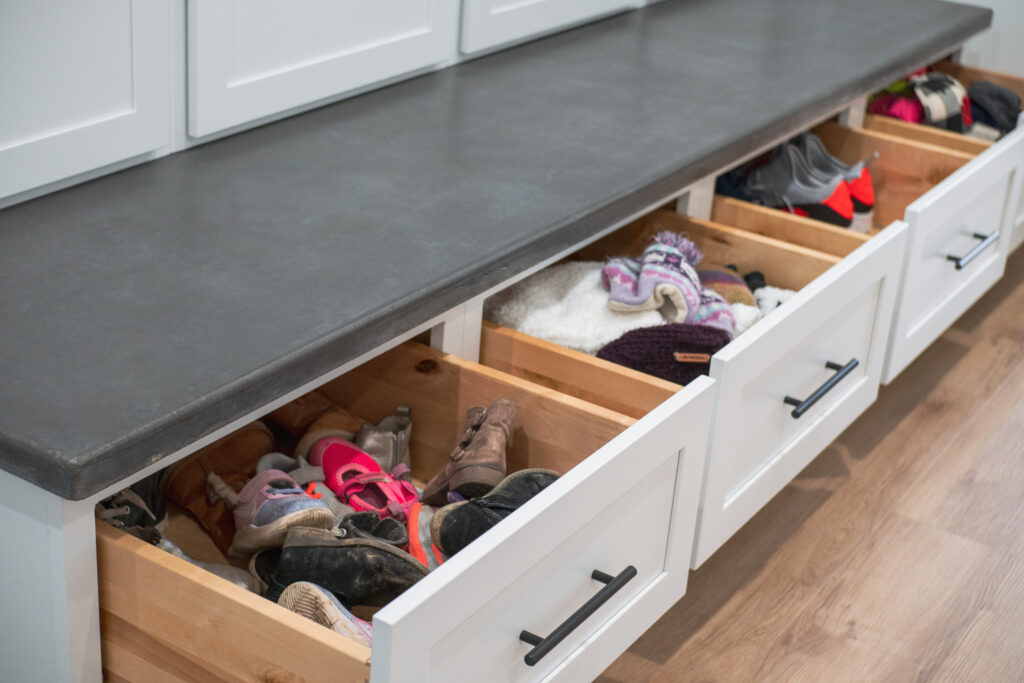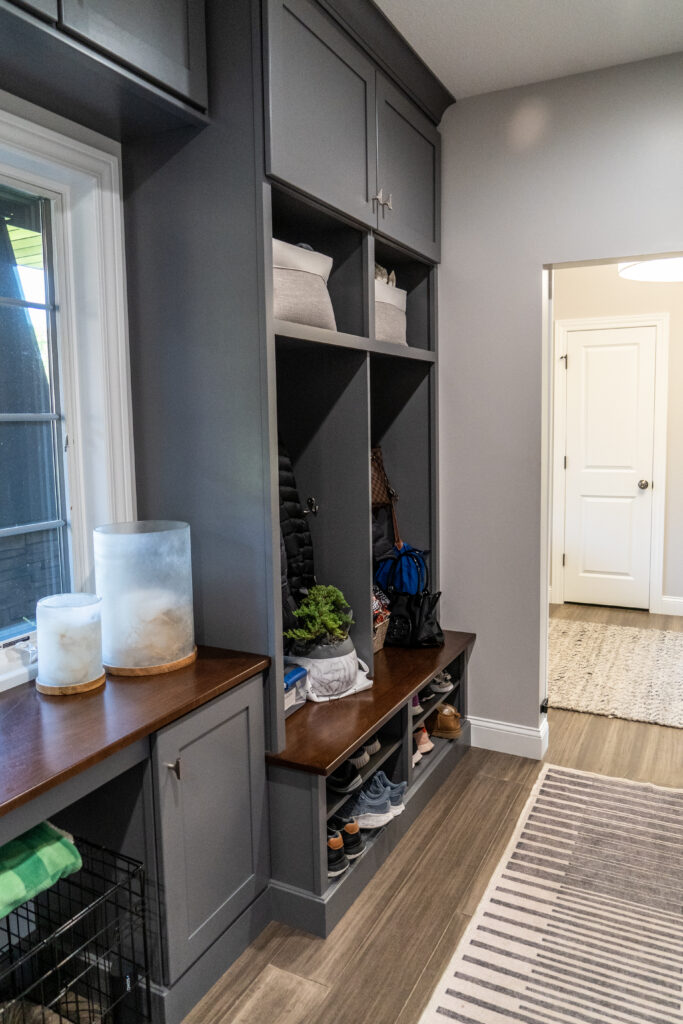 Dedicated Storage for Wet Boots
While dry shoes can be placed into storage drawers, wet boots should be left out to dry. The floor can be a fine place, but you'll definitely want a rug down to absorb the moisture from wet boots. For cabinetry that includes a bench, that's a perfect spot!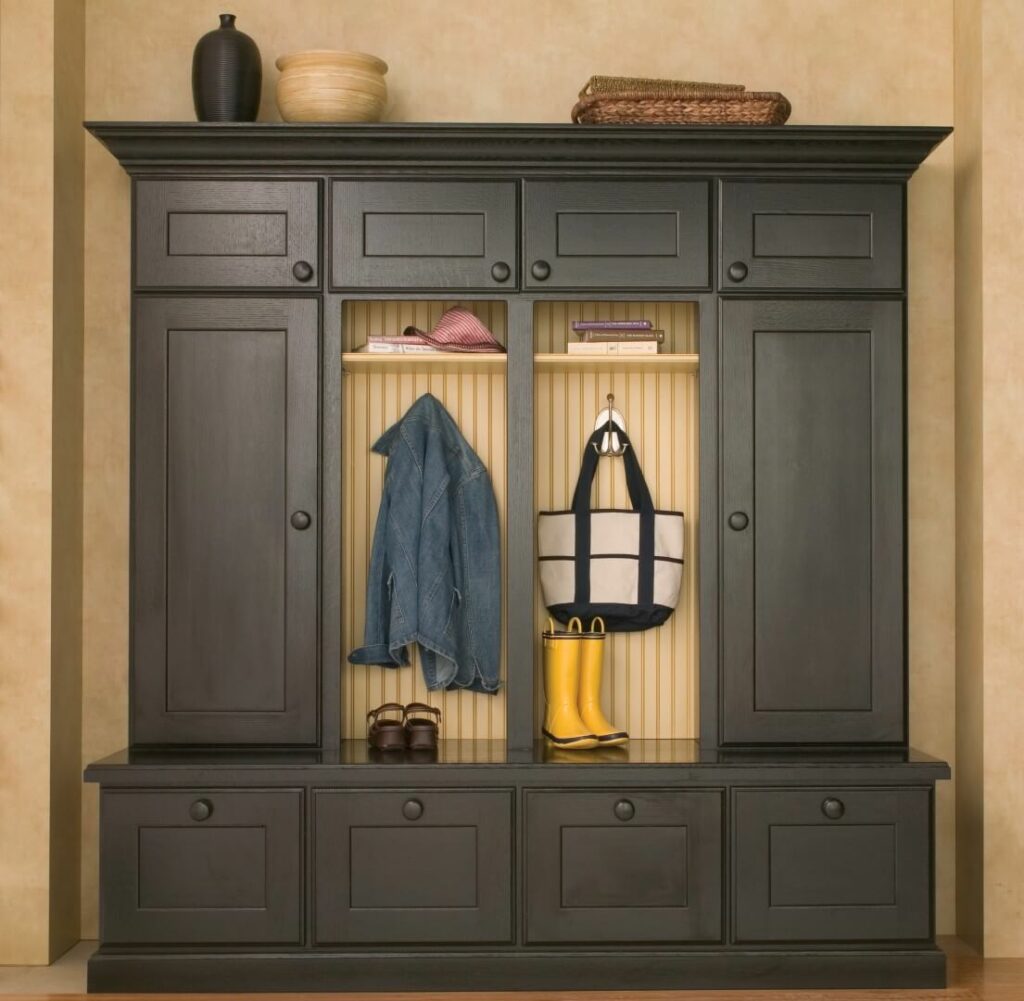 Personal Lockers for Everyone
In this home for a family of four, everyone gets their own personal storage locker by the door! No more fighting over closet space! No more kids piling their dirty shoes on top of your work shoes. This is just another unique idea that custom cabinetry allows you to try! You wouldn't find something this cool in the big box home design store.
Any Entrance Can Be a Mudroom
Most homes have more than one entrance. While most front entrances open into the living room, many homes have secondary entrances from the garage. These entrances also present opportunities for mudroom storage. You don't want people entering from the garage and tracking dirt all the way through the home to your shoe storage area, right? Putting shoe storage at every entrance can help keep things tidy.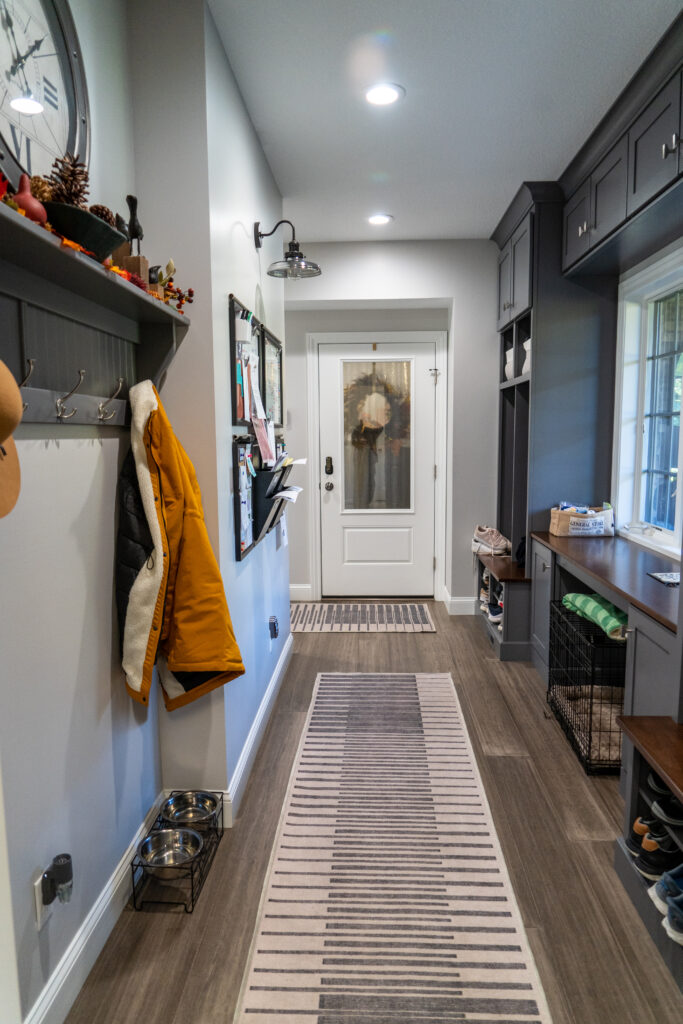 Looking for Custom Mudroom Cabinets?
Need help tidying up your front entrance? Whether you need extra hanging space for coats, ample storage for your shoe collection, or other unique needs, come to LJ's Kitchens and our designers can help you create a mudroom that fits your family's needs. See more examples of mudrooms and storage ideas in our photo gallery now!