In previous blogs, we've covered the pros and cons of both stained and painted kitchen cabinets, but there's a major consideration to ponder before you choose the end-finish. What type of wood do you want your cabinets constructed from?
There are many varieties of standard wood species used in cabinetry:
Maple
Oak
Alder
Cherry
Hickory
High-Density Fiberboard
And those are just a few! There are more wood types, but these are some of the most commonly used woods in cabinet construction.
Wood Choice Consideration #1: Aesthetics
Aesthetics is the main factor when choosing between the various types of wood for your cabinets, especially if you love the appeal of stained cabinets. Keep in mind that different woods take stains differently, and all woods age uniquely from each other.
Kitchen featuring Walnut cabinetry.
The most noticeable visual difference between woods is their grain patterns. For example, oak wood has much more distinct and prominent grain features than maple. Some species feature circular knots like alder, while other woods only feature straight grain lines like walnut.
Consideration #2: Durability & Hardness
Not all woods have the same hardness and durability. As their names suggest, softwood varieties are less durable than hardwoods. Both can be used in cabinet construction, though if you're worried about your cabinets taking some abuse, you may want to opt for hardwood. These include Hickory, Hard Maple, and Oak.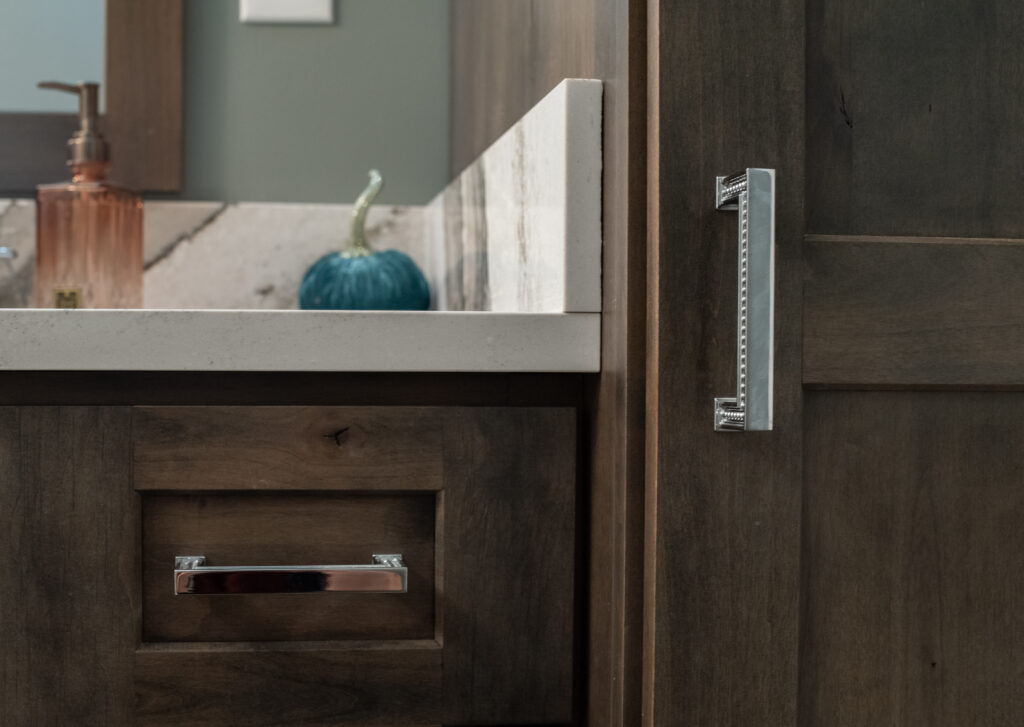 Knotty Alder cabinets.
Consideration #3: Budget
All woods are priced differently. This is dependent on factors like beauty, rarity, and how long it takes to grow to a usable size. We like our customers to keep these things in mind when planning their budget. Cabinets are priced to include standard price wood species, but the wood selected can increase your cabinetry anywhere from 5%-25% depending on what you choose.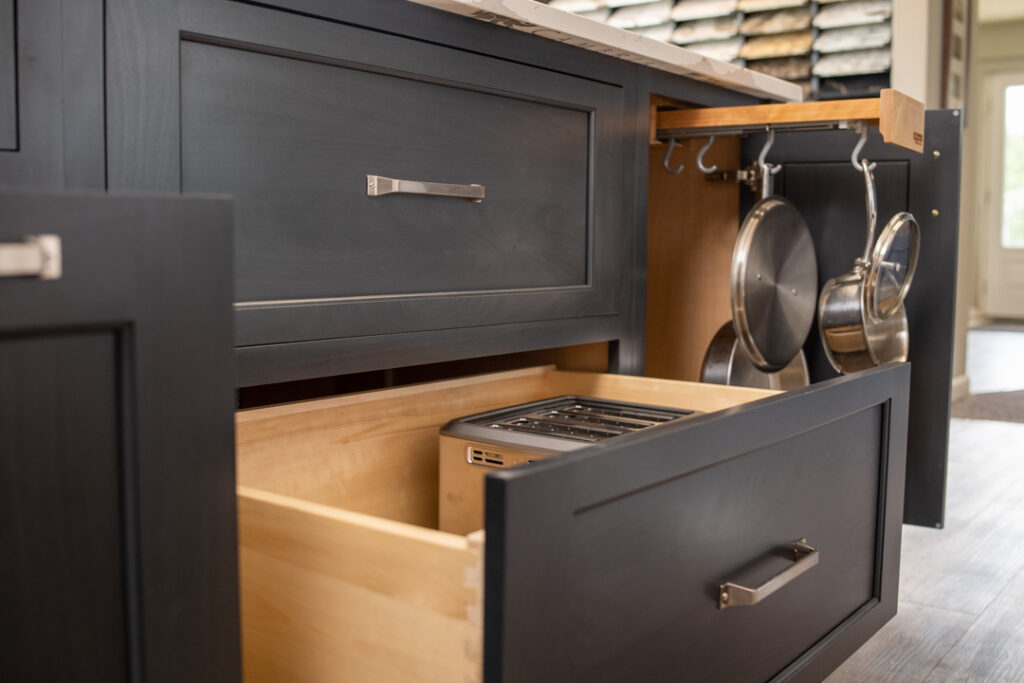 Consideration #4: Color Choice
If you do know what color or style you want for your cabinets, it can help influence which wood you use for your cabinetry. Your designer can help you with the decision process to achieve your desired look. If you do want painted cabinets, we recommend going with the high-density fiberboard option. It doesn't have traditional grain and presents a smooth, clean finish when properly painted. Hardwoods like maple are also good options for painted cabinets.
Painted cabinets.
See Wood Varieties for Yourself at LJ's Showroom
Come see real examples of each of these types of wood cabinets at LJ's showroom in Mt. Pleasant! See our hours and visit us in Mt. Pleasant! We're a great way to find inspiration and our designers can guide you through any questions you may have.