Kitchen islands come in many different shapes and sizes, and what features are included varies from island to island. They have many uses, and some families even use them as their main dining table.
Below are just a few great ways you can utilize your kitchen island.
1. Increase Your Prep Space
You know how much counter space food prep takes up! At a minimum, an island should increase your working surface area. They can also be multi-tiered to create even more prep space. Traditionally, kitchen counters are 36 inches up off the ground, but multi-tiered islands can have 46" or 30" tall surfaces to suit your needs. 
2. Integrate Appliances
Your kitchen island isn't only an additional countertop. Working with LJ's, we can get your island hooked up with water or gas so you can include a working sink or stove. Other appliances that are commonly incorporated into islands include wine fridges, pull-out microwaves, and dishwashers. With these integrated appliances, your island becomes the new focal point of the kitchen.
3. Introduce New Storage Opportunities
Different styles of islands offer different amounts of storage capacity. Some islands are accompanied with a hanging pot rack above, so all of your cookware is focused into one point in the kitchen. Kitchen islands can be equipped with traditional shelves and drawers, or can include organizational tools like pull-out racks or lazy susans. Racks make it easier to look through your pans and pots and pick the right one for the meal. Regular shelves can store less-commonly-used appliances and cutting boards. Some families even choose to build bookshelves into their kitchen island to store cookbooks!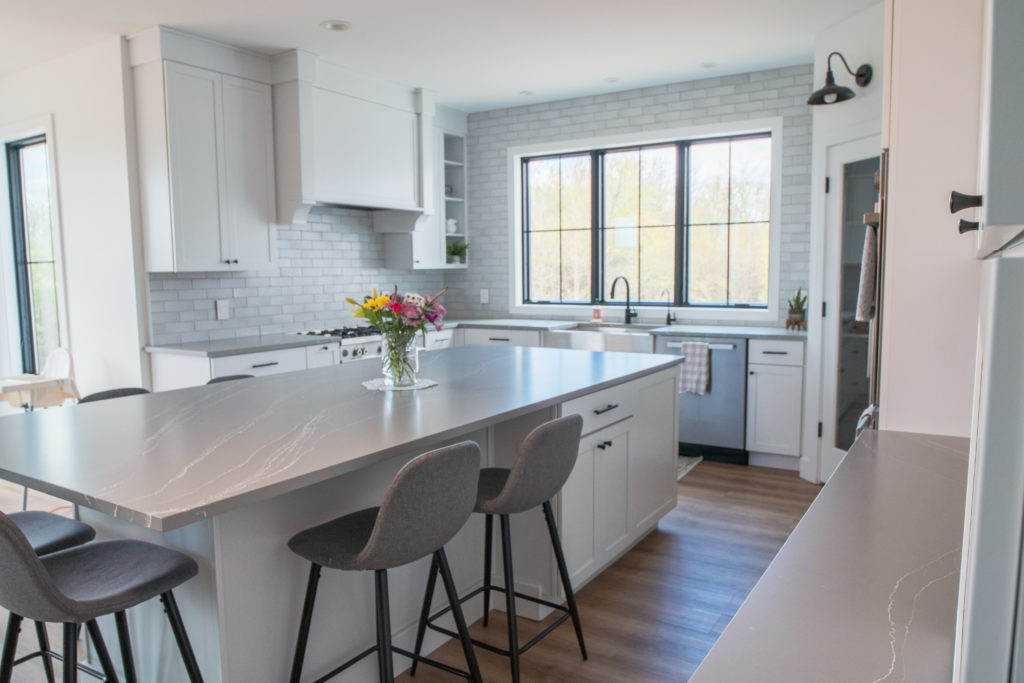 4. Create a New Dining Area
Kitchen islands take on many different styles and can be mixed with seats to create a new dining area for the family. Seats can range from stools to traditional chairs, depending on the height of your island.
5. Hide Trash & Recycling Cans
Trash can feel like an eyesore sitting out in the kitchen? Obscure them in your kitchen island with hidden storage capabilities. Tilt drawers are trendy when placing a trash bin into cabinetry.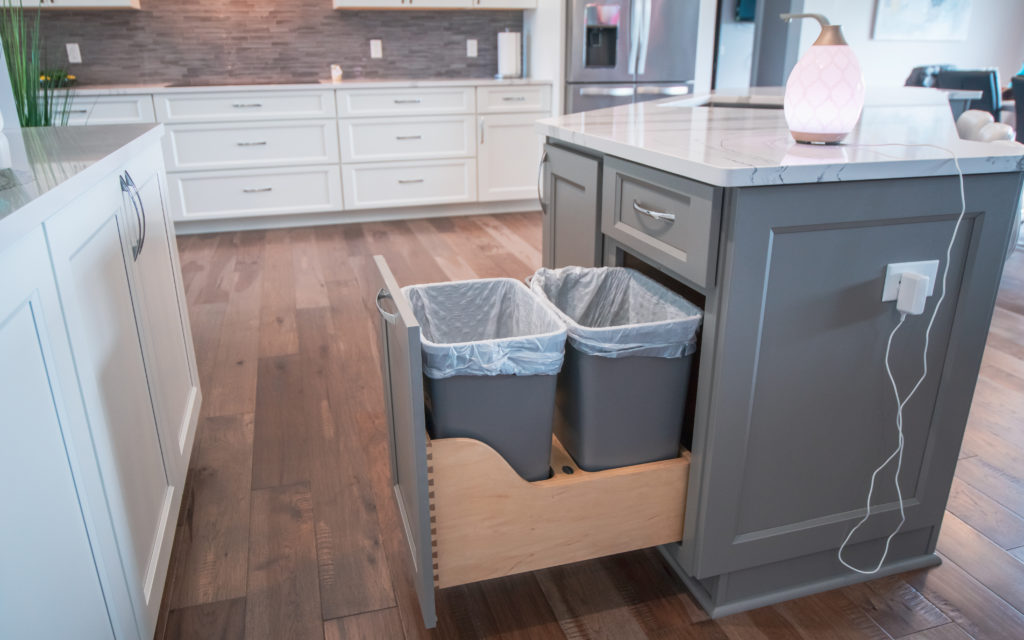 How to Design Your Ideal Kitchen Island
Selecting the best island for your home depends on how you use your kitchen day-in and day-out. Do you do a lot of baking in addition to cooking? Perhaps you need a lower kitchen counter surface for kneading and rolling dough. Boiling water often for pasta? Perhaps your island should include a cooktop.
When you work with LJ's designers, we ask you these types of questions and more. With a proper understanding of how you'll use your kitchen, we can suggest the best possible appliances and features for your island. Ready to get started? Contact us now or come visit our showroom!